Paint Spinning Bikes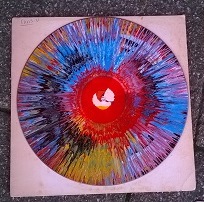 Here we have a Pedal Powered Paint Spinning Bike. An old LP is placed inside the drum at the front, paint is applied to the LP whilst the pedal power keeps it spinning. Once the paint is applied, each LP turns into a new unique piece of art, as seen below:
We will provide a bike, the amount of LP's you require, paint and 12' pizza boxes for your visitors to take their art home in.