Purchase a Smoothie Bike
Buy your very own smoothie bike from as little as £790 - Manufactured in the UK
You can have your own smoothie bike delivered to your door, usually within 10 working days of placing your order. We can offer:
Custom paint jobs, have the bike in your company colours
A filled in front wheel complete with your company logo's
A custom made chain guard
Colour coded handle bars grips
Extra comfortable gel seat
Frame logo's
The addition of a paint spinning tool
Whatever your requirements, we can help. Just drop us an email or give us a call to discuss. Unlike some other smoothie bikes on the market, our blenders are front mounted and driven directly from the top of the wheel, not the side. We have developed a unique integrated gearing system, which ensures a smooth smoothie every time with minimal effort. Some other smoothie bikes available do not blend as effectively as ours, resulting in a lumpy smoothie, yuk!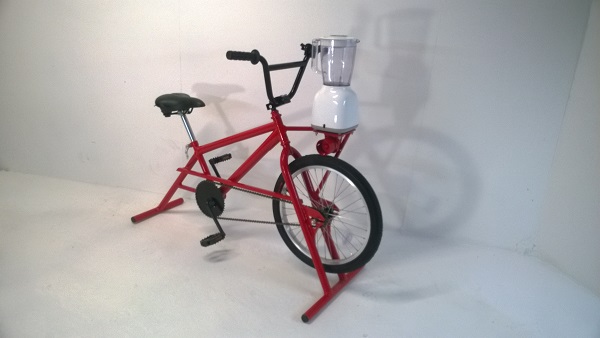 Pictured is an example of one of our standard adjustable smoothie bikes:
The bike pictured shows one of our most popular bikes. Made from a BMX with an extendable seat post, it allows the bike to be used by both adults and children so you can get the most out of your bike. In addition, because our bikes are small they are light weight and easily fit into a normal sized hatch back car. Adult only bikes are also available, as seen below
All of our bikes come complete with set up and user instructions, a 12 month parts and labour guarantee and telephone assistance, as and when required.
The benefits of buying your own smoothie bike include:
One off payment
Your own bike available to use as and when required
Regular healthy promotion events at your business, at no extra cost
Your bike can be branded to your company
Bike delivered to your door (UK Only)
Contact us for a full price list